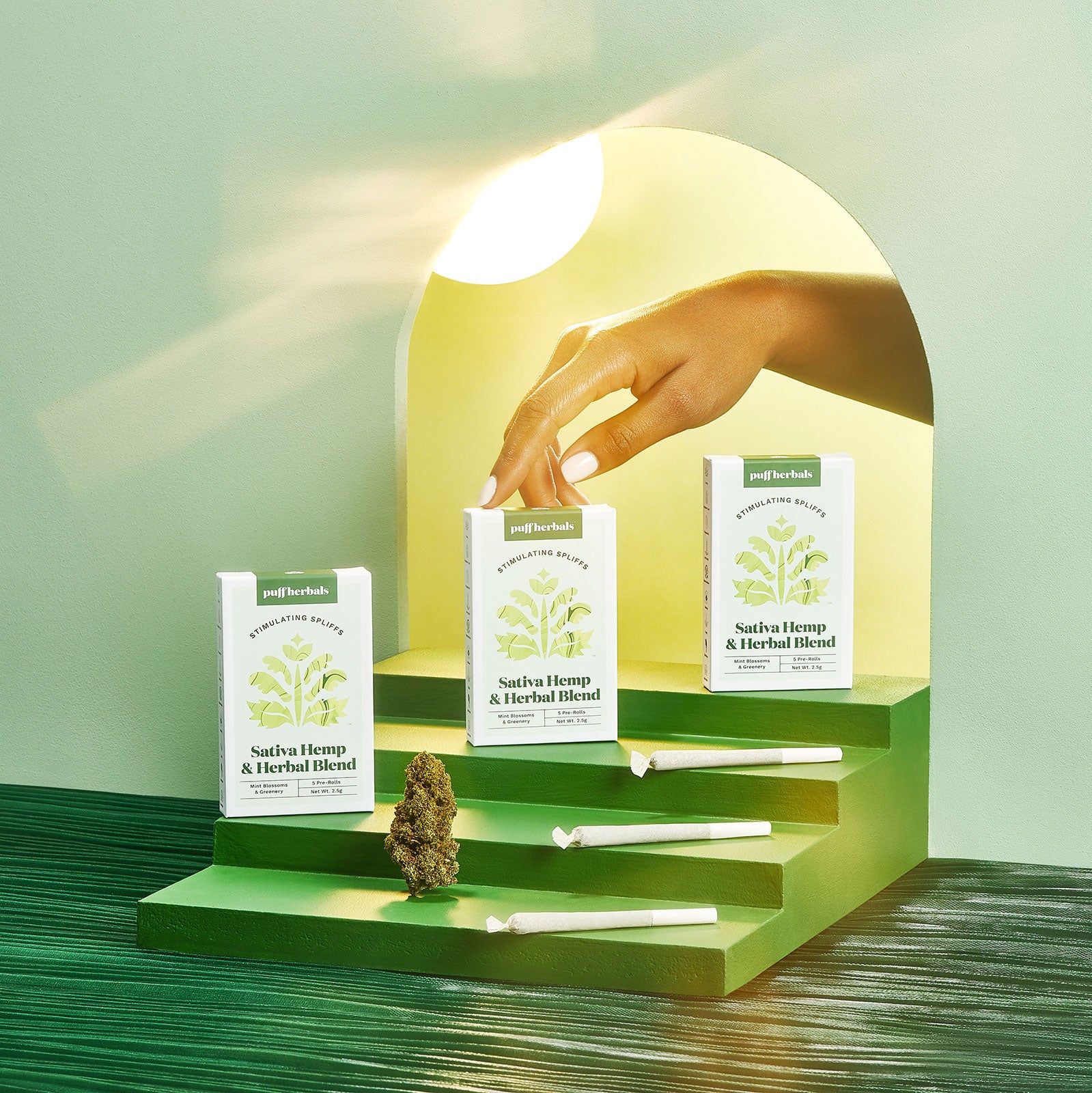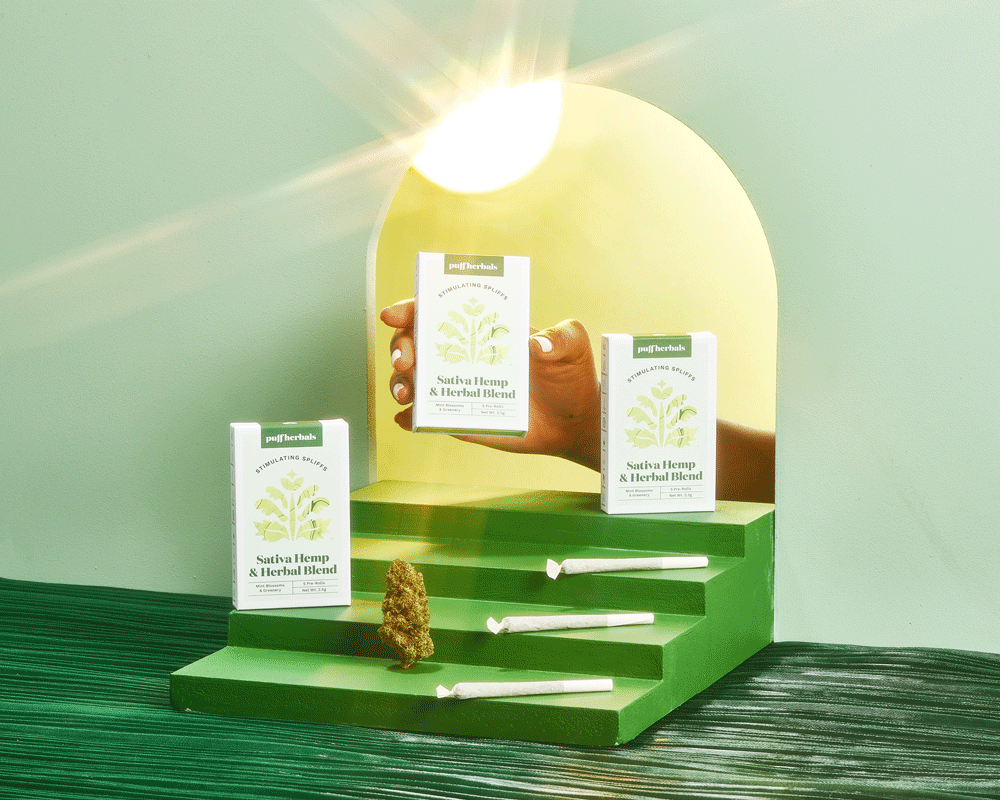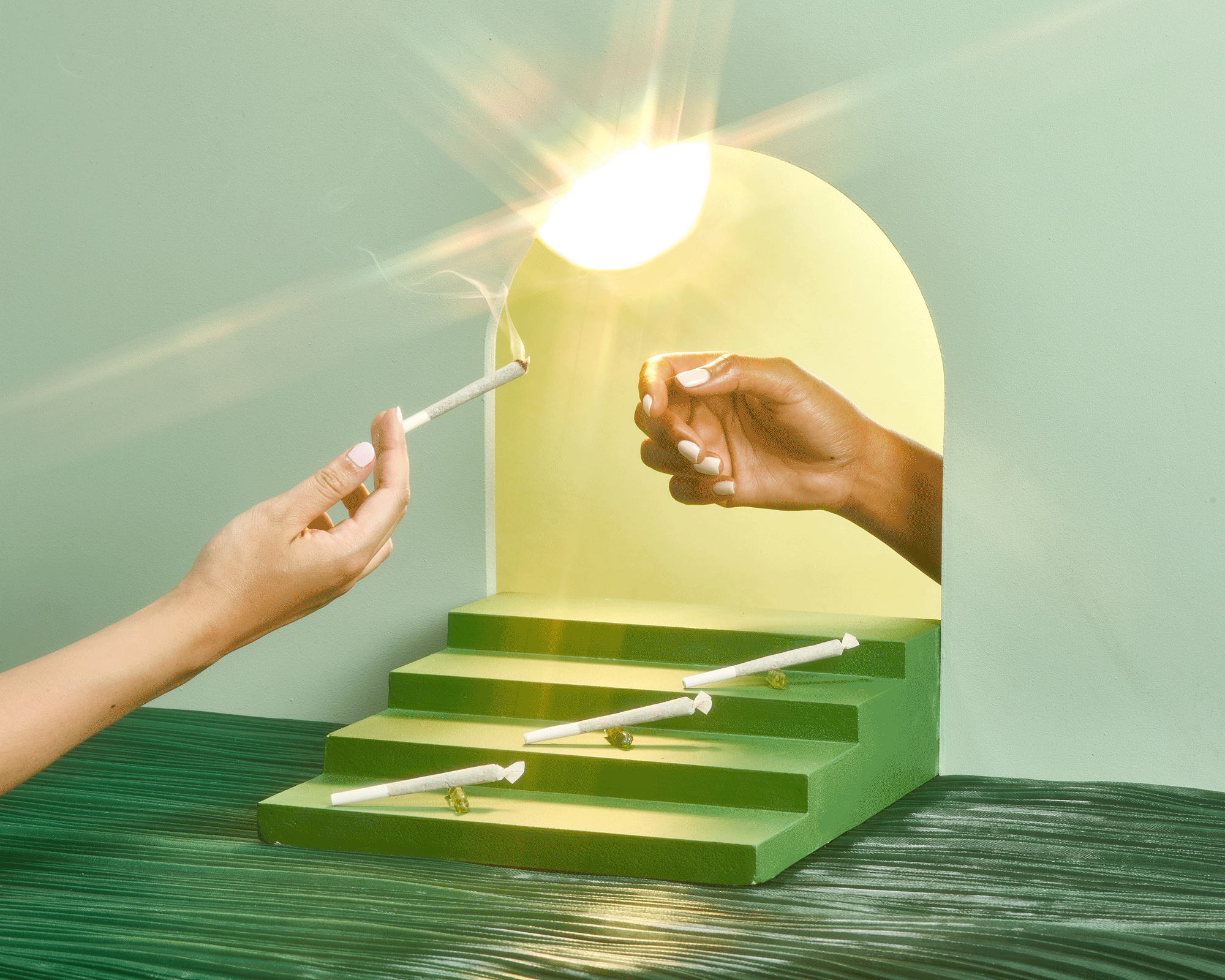 Smokable herbs and hemp for focus*
Sativa-dominant hemp flower paired with our Stimulating herbal smoking blend to help you get on it & feel good.*
5 half-gram pre-rolls in a child-resistant, recyclable pack
~31 mg CBD per spliff
Free shipping on all orders $49+!
SIGN UP BELOW FOR 10% OFF YOUR FIRST ORDER
INGREDIENTS
PAIRINGS
TERPENES
HOW TO USE
FYI
Organic, food-grade herbs rolled in organic hemp paper:
Sativa-dominant Hemp flower (12.19% CBD, <0.3% Δ9-THC)
Raspberry leaf
Peppermint leaf & flower
Holy Basil leaf & flower
Marshmallow leaf
Sage leaf
Skullcap leaf & flower
Gotu Kola leaf & flower
NO tobacco, NO nicotine, NO synthetics, NO additives, NO isolates
Read the Certificate of Analysis
Sativa-dominant hemp flower:

Bisabolol
Caryophyllene
Farnesene
Stimulating herbal blend:

Gently but firmly employ fire to light your plants. Softly inhale and feel the smoke enter your body. Hold smoke for a comfortable moment, and begin to feel the permeating influence of the herbs. Release the smoke, watching its swirling form float away and vanish, along with your tensions.
Not for use during pregnancy or lactation. If you have a medical condition or take medications, please consult with your doctor before use.
Our Stimulating Spliff Herbs
Raspberry Leaf
Rubus idaeus
Raspberry leaf adds lush, green body and imparts a hint of sweetness which enhances the other flavors of the blend.*
Peppermint
Mentha piperita
Minty fresh, smoking peppermint is like splashing your face with cold water - tension is released, blood gets moving, and clarity arises.*
Holy Basil
Ocimum sanctum
Exhilarating and adaptogenic with exceptional aroma, this herb otherwise known as tulsi really makes you strut your stuff.*
Marshmallow
Althaea officinalis
Velvety soft and smooth, marshmallow leaf rounds out our blends while allowing the other flavors in the mix to shine through.*
Mullein
Verbascum thapsus
Soothing to the respiratory system, mullein is in all of our blends. This herb allows you to breathe more slowly and deeply and helps counterbalance the dry and hot nature of smoke.*
Sage
Salvia officinalis
Crisp and motivating, sage promotes the flow of energy and ideas but keeps things balanced by diffusing overwhelm.*
Skullcap
Scutellaria laterifolia
Skullcap helps you lower your shoulders, unclench your jaw, and quiet your mind. Skullcap is in all three of our blends and provided the inspiration for our logo.*
Gotu Kola
Centella asiatica
Gotu kola provides a rejuvenating brain boost, especially if you're feeling burnt out.*
Hemp Flower, sativa-dominant
Cannabis sativa ssp. sativa
Chosen to complement the bright, uplifting bouquet of our Stimulating blend, this sun-grown flower is rich in cannabinoids and terpenes of bisabolol, caryophyllene, and farnesene.*
Shipping
Free shipping on orders $49+
Please enjoy free shipping on all orders $49+! All orders $49+ ship free via USPS First Class Mail, with the option to pay for expedited shipping.
We ship nationwide
We ship within the US and to US territories. Please note we unfortunately can't ship our Signature Collection to the state of Louisiana. Sign up for our newsletter to find out when we expand shipping to other countries.
Discreet packaging
We ship all orders in normal-looking cardboard boxes with no special tape or anything, so nothing flashy!