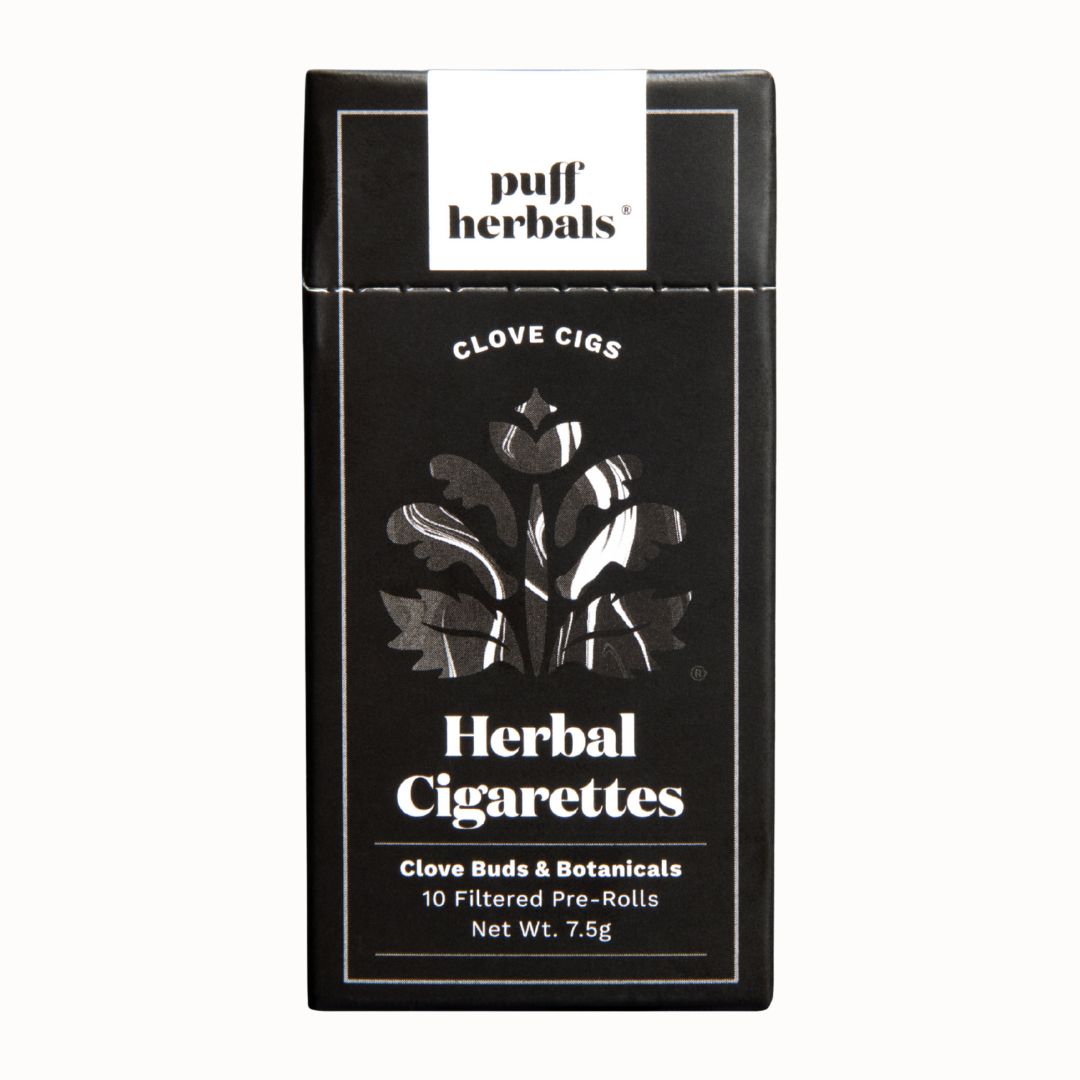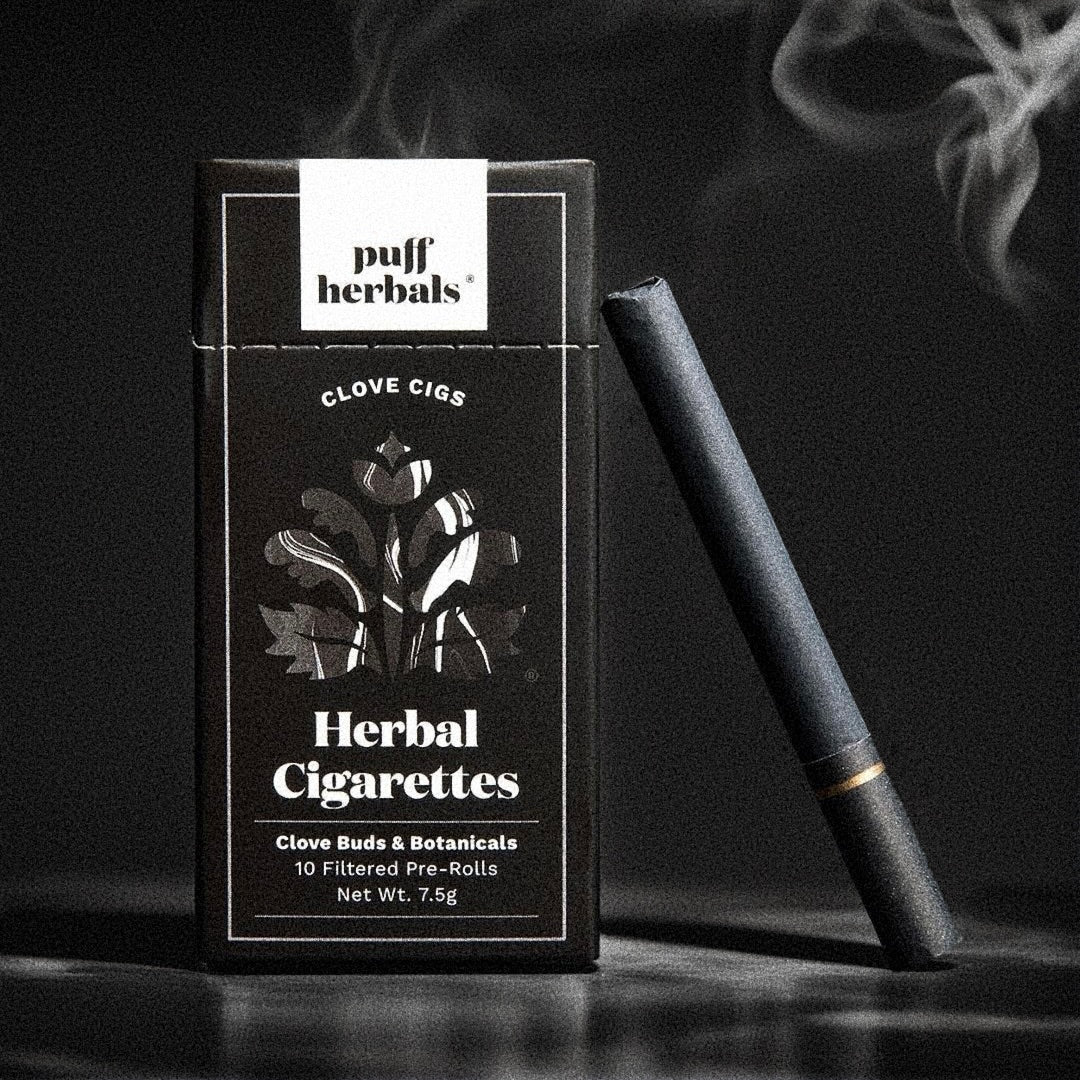 Spice it up with our new Clove Cigs.*
Crafted with a thoughtful blend of clove buds and botanicals, these herbal smokes rolled in black paper evoke the nostalgia of the classic, yet long-prohibited, clove cigarettes but without the tobacco or nicotine.
Ten 0.75 gram filtered herbal cigarettes in a recyclable pack
Free shipping on all orders $49+!
SIGN UP BELOW FOR 10% OFF YOUR FIRST ORDER
INGREDIENTS
PAIRINGS
TERPENES
HOW TO USE
FYI
Organic, food-grade herbs rolled in black, chlorine-free paper:
Damiana leaf
Marshmallow leaf
Clove bud
Skullcap leaf & flower
Coltsfoot leaf & flower
Nutmeg seed
Vanilla bean
NO tobacco, NO nicotine, NO cannabis, NO hemp, NO CBD or THC, NO synthetics, NO additives, NO isolates
Suggested pairings:
Coffee
Nightclubs
Black Clothing
Naturally-occurring terpenes:
Cadinene
Eugenol
β-Caryophyllene
Gently but firmly employ fire to light your plants. Softly inhale and feel the smoke enter your body. Hold smoke for a comfortable moment, and begin to feel the permeating influence of the herbs. Release the smoke, watching its swirling form float away and vanish, along with your tensions.
Not for use during pregnancy or lactation. If you have a medical condition or take medications, please consult with your doctor before use.
Our Clove Cig Herbs
Damiana
Turnera diffusa
Providing the earthy undertones that anchor this spicy blend, euphoric damiana emanates warm and fuzzy body feels to keep you feeling cozy as temperatures fall.*
Marshmallow
Althaea officinalis
Velvety soft and smooth, marshmallow leaf rounds out the body of this blend while allowing the other flavors in the mix to shine through.*
Mullein
Verbascum thapsus
Soothing to the respiratory system, mullein allows you to breathe more slowly and deeply and helps counterbalance the dry and hot nature of smoke.*
Clove
Syzygium aromaticum
Crackling with warmth, the clove buds in this blend impart aromatic depth and a spicy sweetness that lingers pleasantly on your lips.*
Skullcap
Scutellaria laterifolia
Skullcap helps you lower your shoulders, unclench your jaw, and quiet your mind, soothing the nervous tension so often associated with feeling like you need a smoke.*
Coltsfoot
Tussilago farfara
With horse hoof shaped leaves and a history rich in traditional use, coltsfoot gives this blend a gentle pull along with an earthy essence that grounds you in the moment.*
Fragrant (hence the latin) and ever so slightly fiery, nutmeg is that "I can't put my finger on it" spice that drives home the flavor of this blend with every draw.*
Vanilla
Vanilla planifolia
The sultry, sweet, and irreplaceable flavor of vanilla is the finishing touch of temptation in this dressed-in-all-black blend.*
Shipping
Free shipping on orders $49+
Please enjoy free shipping on all orders $49+! All orders $49+ ship free via USPS First Class Mail, with the option to pay for expedited shipping.
We ship nationwide
We ship within the US and to US territories. Please note we unfortunately can't ship our Signature Collection to the state of Louisiana. Sign up for our newsletter to find out when we expand shipping to other countries.
Discreet packaging
We ship all orders in normal-looking cardboard boxes with no special tape or anything, so nothing flashy!